VOICE PERFORMANCE MUSIC SOUND TEXT ART PROJECT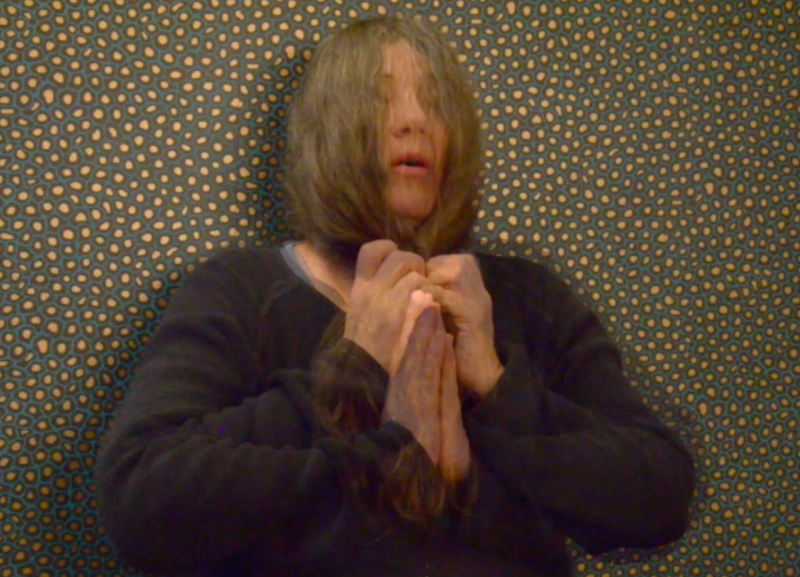 Still from Oracle, filmed by Johan Haugen

Felicia Konrad b.1964
Voice Performer/Performance Artist/Singersongwriter and Cultural Projectleader

EVERYTHING HAS CHANGED FOR ME IN THE LAST YEARS...
This web page has not been completed and done because of that...and it is because I needed to understand how deep the change is. It needs a much more more-than-human perspective.

Right now Oct 2020

24/10 Participation with "Oracle", a series of deadly serious but also humoristic short vocal spontaneous sound pieces with theme climate chaos, more-than-human perspective, in the pop-up exhibition Sound Art; Hola Folkhögskola at Härnösands Arthall and Fyren (Norrdans). Facebook event Link to Oracle I
(Oracle started out by participating in Performance Køkkenets initiative; QuAR(T)antine and the
Oracle sound impro.)

14-19/10 'Fjärilarna steg upp' /'The Butterflies ascended' sound installation by Halla Steinunn Stefánsdóttir
specially created for the tropical palm house at the greenhouse of The Botanical Garden in Lund.
Voices and improvisers in the work are Sofia Härdig, Liv Kaastrup Vesterskov and Felicia Konrad.
Facebook event
It is the third work in Stefánsdóttir's 'Activation series' and springs out of a performer's engagement with a virtual entity, namely the book Tapeshavet' [Tapes Sea] (2017) by Gunnar D. Hansson. Through this book, Hansson explores Härnäset on the west coast of Sweden across temporalities. By looking at the sites' transformation in such a geopoetic way, the book becomes a mirror for climate change. The installation grew out of activations of fossilised oceans, abandoned quarries and 920 million year old granit but also through the construction of a performance score, which worked as an interface between Tapeshavet, the site, and the greenhouse in Lund. At the same time the work uses the Tapeshavet's strands of entropy as well as Stefánsdóttir's practice of multi-entity performance as a key to its composition. Fjärilarna steg upp links therefore to entanglement and intra-relating, even in its state of eros(ion), meanwhile bearing the signature of much of Stefánsdóttir's work, which resides at the intersection between human and environment.
*******
Field recordings and activations on Härnäset were conducted in the company of Gunnar D. Hansson, Anders Hultqvist and Stefan Östersjö.

September 2020
Color grading by Benjamin Zadig and our film Precious Balance Walk is complete, and also a trailer edited by Sascha Fülscher.
www.istilliveinwater.com/news
Work with applying to film festivals is ongoing since july, and it has been decided that it will be shown at Malmö Arthall 2021, and we are in contact with the filmclub at the Modern Museum, Stockholm.

August 2020
28/7-16/8 https://malmo.se/Uppleva-och-gora/Konst-och-museer/Malmo-Konstmuseum/Utstallningar/Water-Dialogues.html
Sound installation 28/7-16/8, Slowalk collective 9/8, Live performance concert 16/8

If you need to ask something or contact me: f.konrad@telia.com or take a short look at
www.facebook.com/feliciakonradvoiceperformer www.facebook.com/feliciakonrad
www.musikcentrumsyd.se/artister/felicia-konrad
www.soundcloud.com/fkonrad
www.istillliveinwater.com www.facebook.com/istillliveninwater
www.facebook.com/Trapets-1728966430729359/
Cosmic Wash Over


SWEPT AWAY - An imagine story for your voice (Felicia Konrad, vocal/Lyrics Kent Olofsson sound design) Jan 2019.
At Soundcloud
______________________________________________________________________________________________________
PLAYLIST ON SPOTIFY : 6 pieces from 5 albums
PLAYLIST 2 ON Spotify: 6 pieces from 4 albums
______________________________________________________________________________________________________
Past 2020
14-15/5 Presentation of sound artwork at the course Sound art, Hola Folkhögskola (part-time studies). Due to the coronavirus the exam exhibition will take place a the end of October 2020, in Härnösand.

11/5 We are about to make the final work to complete the short film Precious Balance Walk with 6 nordic performance artists. Due to the coronavirus, we need to adapt to the situation and wait to finish the last work with the film. We are also waiting for answers for our applications. But I am happy to say, that it is a really great feeling to have been able to come this far with (my) our!!! first film ever.

10/5 Interactive Water Walk, slow and collective

17/4 Participated with ORACLE as a part of QuAR(T)anting video performance art open call by Performance Køkkenet

03 (March) Participated in a sonic meditation with theme war, the recording was being mixed an included in a sound piece,
War-who-can-separate-from-their-enemy? shown at CPH:DOX By the composer and musician Morten Svenstrup.

03 (March) Participated in 2 artistic workshops by Tian Rotteveel and 1 workshop with Jeaninne Durning druing the Eareye festival at Inkonst, Malmö/Sweden.

03(February) Kent Olofsson will do a remix on Eartlove. But due to the coronavirus, we will wait with to work with our plans with this little piece.

2019
1. The intuitive art project I Still Live in Water 2014-
19/6 - 30/8 Happy news for us, the short film Precious Balance Walk has received support from Nordic Culturefond and we manage to make the first step, filming and a WIP, Work in progress.

2. Collaboration with the singer and artistic researcher Elisabeth Belgrano, International Voice Performance Research Symposium, number 1; Voice and the Unknown in a series of 3 completed 28-30 of January 2019, at Inter Arts Center, Malmö/Sweden.

3. EARTHLOVE, recording for coming remix and music video.
It is an activistisitc initiative by Felicia Konrad and the artist Johan Haugen.
Participating musicians Felicia Konrad vocal/lyrics, Johan Haugen didgeridoo, David Carlsson bass/recording/mix/master
Martin Fernandez Ekestig drums, Frans Hanner guitar, Petter Lindgård trumpet, Mats Persson electronica/ sounddesign, Noak Haugen Konrad vocal
________________________________________________________________________________________________________
21 october , Interferal Voices, Inter Arts Center
Happy to participate with the soundpiece Swept Away - an imagine story for your voice, Felicia Konrad/Kent Olofsson

Beginning of November: I Still Live In Water's yearly interactive Performance at Ribersborgs City Beach.

Winter; planning for starting a new constellation: A live ambient concert/installation with water together with David Carlsson, Mats Persson and Tina Quartey as an expansion of our sound piece Water Dialogues released March 2019.
________________________________________________________________________________________________________
Already past 2019
11th of May
Arranging a Deep Listening/Pauline Oliveros course with the composer and multi-instrumentalist Morten Svenstrup in Malmö.

March/Aprile
The Sound piece Water Dialogues have been played 2 times in Swedish Radio; at Jazzradion 31st of March and in Kalejdoskop 14th of Aprile. P2.

31/3 VOICECLOUD workshop at Inter Arts Center. Fb event

16 March 16-18 at Underverket, Release of DIGITAL PUBLICATION:
Water Dialogues (Konrad/Carlsson/Persson/Quartey)
Water Dialogues was created for the exhibition Amniotic Fluid (by Konrad/Haugen) I still live in water at Tomelilla Konsthall, 8/-9-4/11 2018

28-30 January
Voice and the Unknown - An International Vocal Performance Research Symposium
Inter Arts Center, Malmö/Lund University
Facebook Event
Organisers: Elisabeth Belgrano, Felicia Konrad
Participants
ELISABETH L. BELGRANO, voice artist & PhD in Performance / Nordic Network for Vocal Performance Research/president, National network for Artistic Research in Music / Inter Arts Center, Malmö, Lund University / Öckerö, Sweden.
FELICIA KONRAD, voice artist, Inter Arts Center, Malmö, Lund University / Sweden.
LISA NYBERG, visual artist, teacher & organizer, PhD in Practice candidate at the Academy of Fine Arts Vienna, Austria / Malmö, Sweden.
MISHA PENTON, voice artist, composer, director & PhD candidate in music, Bath Spa University, UK / Houston TX, USA.
JULIEANNA PRESTON, Professor of Spatial Practice at Toi Rauwharangi/ College of Creative Arts, Massey University, Wellington, Aotearoa/ New Zealand.
BJÖRN ROSS, visual artist, Nordic Network for Early Opera / Copenhagen, Denmark.
ELISABETH HOLMERTZ, singer, PhD candidate in Artistic Research, Norwegian Academy of Music, Oslo, Norway'.
Participants: Elisabeth Belgrano, Felicia Konrad, Lisa Nyberg, Björn Ross, Misha Penton, Helena

23-25 januari, Attended Multispecies-Storytelling at Linnéuniversitetet, Växjö

2018-2019 Voice Cloud (residens, IAC)
4 Workshop sessions exploring voice/sound walks/creating soundscapes
Inter Arts Center, Malmö-Sweden 2018-2019.
________________________________________________________________________________________________________
Performance
2015-2018 performance with the intuitive art project I still live in water
2018 Water Walk - A Performance Art Walk, interactive, together with the artists Erik Högström, Susanne Ovelius and Monika Gora. With inspiration from slow walk - butoh dance, and Global Performance Art Walk. (Ribersborgs Beach, Malmö/Sweden).
2018 We are all water in the same Ocean - Water Banquet, interactive performance at Tomelilla Arthall.
2017 Water is instinct, with interactivity, together with the artists Erik Högström, Andreas M. Larsson and the dance artist Annou Nilsson. (Ribersborgs Beach, Malmö/Sweden).
2016 - A glass of water, thank you! - The water in your glass is maybe older than the sun.
(Blå Ställets Art Hall, Angered/Malmö City Library).
2015 To carry water. To carry 5890 liters one day. An interactive place specific performance at Dome of Visions, Copenhagen and at Ribersborgs Beach, Malmö/Sweden. In Malmö also participation by 4 percussionists Tina Quartey, Emeli Ek, Martin Brandqvist, Emil Sjunnesson played on/in water, and the speech starting with the words "I was born in water and when I die all my cells will go back to water again by the author and moderator Catharina Rolfsdotter. With support from Malmö City Cultural Support and Dome of Visions.
2013 Solo performance
Solo Performance; Earth Love, Solo Festival, Teater Trixter, Göteborg/Sweden.
The Fountain; Interaktiv performance at the 15 years jubilee of The Poetry Festival in Västernorrland/Sweden.
As one of the initiative taker to Poetry Festival, I was invited to make a performance and a speech.
Performance I have Participated in 2016-2019
2018 Intime/Angela Rawlings, Hydrosphere; Laboratory Aesthetics and Ecology, Helsingör/Denmark
2018 Breathing Choir; Ying-Hsueh Chen, Gallery Molekyl, Malmö/Sweden
2016 Home, Public Society Performance Collective, Performance Køkkenet, Copenhagen/Denmark
____________________________________________________________________________________
2018 Nov-dec Participating in Course in Deep Listening/Pauline Oliveros, Copenhagen by the certified leader, composer Morten Svenstrup.
2016-2019 Artistic Workshops that I have participated in
2019 7th of june Tree Time, Caitlin Dear, Inter Arts Center
2019 25th of May: Site-Specific Singing with Miyuki Inoue, Inter Arts Center/Malmö/Sweden
2019 9 mars Mouths & Voice, Anne Naukkarinen, Stapelbädden, Malmö/Sweden
2018 Oktober, Human time, Nature time, NIAN workshop by Rita Marhaug, Göteborg/Sweden
2017 Shaman Walking, Ignacio Pérez Pérez (Global Art Performance Walks) Body Landscapes; Performance Festival in Copenhagen
2016 The Voice and Identity, Benny Nemerofsky, Valand, Göteborg/Sweden
_______________________________________________________________________________________________________
Album
2019 Water Dialogues (EP) Felicia Konrad, David Carlsson, Mats Persson,Tina Quartey) at Bandcamp
2017 Blue Sky Rain Falls/Trapets ambient/artsound duo Felicia Konrad och Mats Persson) also at Bandcamp
2015 Wonderful Surreal/Cosmic Wash Over (collective singer/songwriting) Felicia Konrad, Caroline Leander, David Carlsson, Ann Falden, Peter Tegnér, Mats Persson
2011 Cosmic Wash Over/Felicia Konrad (collective singer/songwriting) Felicia Konrad, Caroline Leander, David Carlsson, Mats Persson, Robin Knutsson, Peter Tegnér
2003 So drop it in/Konrad Band (alternative jazz/Imogena) Felicia Konrad, Karin Johansson, Stefan Petterson, Ebba Westerberg

Voiceperformance, solo and in collaboration with other artists (art, poetry, music) since 1998.

Studies in method acting at Lee Strasberg Theatre Institute, New York and London.
University studies in Litterature and Music, and Moma, 20 p Music and Management at Gothenburg College of Music/Gothenburg School of Economics and Commercial Law
Cultural Project Leader Kulturverkstan/Gothenburg

Grants and financial support
Grants from Swedish Art Grants Comitté: Music: 2010, 2016.
Contribution from Helge Az:son Johnsons foundation found 2017 for the project Voice Cloud.
Contribution from Malmö city Cultural Support 2015 for the project: To carry water. To carry 5890 litres one day.
Contribution from Swedish Art Council for a tour with 20 concerts in Västra Götaland 2002 with Konrad Band.

Amongst many other things:
Worked as an assisting director to the famous Swedish director Bo Widerberg 1991-92.
One of the initiators to the Poetry Festival in Härnösand 1999, now called The Poetry festival of Västernorrland, Sweden.
Worked as a cultural secretary for young people at Tjörn, 2002-2003.
One of the three persons working with the pre-study of Musikcentrum Syd, 2011-2012.

Theresa Benér, describing Felicia Konrad's work with Voiceperformance (www.theresabener.se)
"When a human being is born, the first sound she hears is her own voice. Spontaneously, unpolished and untrained, the voice explodes out of the body. During her entire life she shall use this bodily sound, and modulate it, more or less refined,
in separate language systems. The very origin sound, or the tonic chord, will remain but not be encouraged in the deliberate path of the individual through social networks. When Felicia Konrad makes a voice performance, she is searching for that tonic cord that is embedded in the language and carries the sound of the voice. Interestingly as it is we humans exchange a tremendous amount of practical messages and information, which are so predictable that we only need to listen to the vocality and the contour of the voice to receive the message. Still, very few care to define what the voice is telling. Felicia Konrad works with words, language, song, speech and vocalizations, but always with an intention to listen closely to the expression of the voice. Her ways to explore the voice are physical, poetic and humorous at the same time. In a performance she intends to impersonate the way of the bodily sounds through a human, and the voices' communication between different figures. In one short performance she can give shape to multiple characters at the same time, often with a close contact to the spectators, who in turn will start to experience.